"Peter Merry has helped hundreds of couples make the most of their wedding reception. He is an expert on what it takes to create a wedding reception that is fun, entertaining, and truly memorable (for all the right reasons)."
~Tom Haibeck
Author of "Wedding Toasts Made Easy!" and "The Wedding MC"
SOMEBODY HAD TO DO IT
I've been helping couples create personalized moments at their wedding receptions for over 20 years. Back in 1999, I began getting frustrated by the wedding magazines and wedding planning books that kept referring to my role as simply "the music" instead of recommending entertainment with all of the various services the should be and could be provided.
I decided to write a book based on a seminar I had developed for brides and grooms that would explore the planning aspects of a wedding reception from the unique point of view that entertainment can provide.
I self-published my book in February of 2007 and after selling more than 11,000 soft-cover, black & white copies in under 2 years, I landed a deal with a publisher. My book was updated, hard bound, printed with a full color interior, and published in bookstores everywhere in October of 2010. The book is also available on Kindle and iBooks.
In my ongoing efforts to promote my book, I have given over a dozen TV interviews on the topic of creating fun and memorable wedding receptions.
WHAT'S IN IT?
The book features: 230 creative ideas for personalizing your wedding reception celebration, 22 couple profile pages featuring real couples and their unique wedding reception agendas, and over 100 full color images.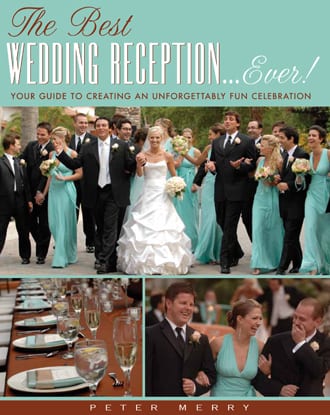 WHO'S READING IT?
"The Best Wedding Reception…Ever!" is currently being read by engaged couples, along with wedding entertainers and other wedding professionals across the United States, along with Canada, United Kingdom, Ireland, Germany, Australia, New Zealand, Singapore, Malaysia, and Korea.
HOW CAN I GET A FREE SIGNED COPY?
Every couple who meets with me receives their very own complimentary signed copy as my way of saying "thanks" for taking the time to consider my services.
I am looking forward to showing you how your celebration can also be the best…EVER! Call me today
to schedule your free consultation so you can get your own complimentary signed copy of my book.
(800) 994-5338