IT'S TIME TO CELEBRATE!
The Purpose of a Wedding Reception is to give the Bride and Groom, along with their closest friends and family, a chance to celebrate. After all, they just got MARRIED! Food and Drink… Conversation and Laughter… Fun and Dancing are frequently the expected components of this once-in-a-lifetime party.
WHAT DRIVES A CELEBRATION?
There are many "supporting cast members" that play a vital role in a reception celebration. The location provides the setting and determines the time constraints. The catering staff makes sure the guests are well-fed. The bartender keeps the drinks (party lubricant?) flowing. The florist decorates the setting according to the bride's desired theme. The coordinator manages the "cast" from behind the scenes. The photographer, along with the videographer, document the candid moments and details. But it is the sole responsibility of the ENTERTAINMENT to keep the guests involved and engaged from beginning to end.
MORE THAN "JUST MUSIC"
An Unforgettably Fun Celebration will require much more than "just music" to keep your reception flowing smoothly and filled with fun surprises for your guests to enjoy from one moment to the next. You will need to find a qualified wedding entertainer who can deliver The RESULTS you are expecting. Someone who not only plays music and makes announcements, but a polished Master of Ceremonies who can create moments filled with LAUGHTER, along with a skilled DJ who can get your guests DANCING. The real challenge is finding one person who has The TALENT and the experience to pull it all together in a highly entertaining way without trying to steal the show.
MY NAME IS…
My name is Peter Merry. As one of only a few dozen wedding DJs in the United States to earn the prestigious title of Wedding Entertainment Director®, I have been certified as uniquely qualified to create unbelievably fun wedding reception celebrations. I am very passionate about helping couples plan their receptions with the entertaining results they are hoping for in mind. So much so, that I wrote the first ever wedding planning BOOK for engaged couples who want a fun and memorable celebration. I have been providing my entertainment services at wedding receptions across the United States for over 20 years.
I BELIEVE…
I believe every wedding reception should be a unique reflection of the newlywed couple's style, personality, humor, values, and traditions. I believe my role in helping those dreams become reality is that of a "director" who is only noticed when an important moment is about to occur. I believe the bride and groom are the "stars" and it is my responsibility to keep the spotlight focused on them and their deserving family and friends. I believe wedding guests will only leave after the cake cutting if they are not being appropriately entertained. I believe that most of the guests at a wedding reception want to dance and celebrate without cheesy tactics being employed to force their cooperation.
CONTACT ME TODAY!
Call toll-free to schedule your
complimentary initial consultation
(800) 994-5338
Feel free to text me if you prefer
(949) 584-5338
Contact Form
WE ALL DO "THE SAME THINGS"
As you are sorting through your options for wedding entertainment, it's important to note that all wedding entertainers pretty much do "the same things" for our couples. We all play music. (Bands play their music live and DJs play and mix recorded music.) We all make announcements. We all introduce the Bride & Groom into the Reception. We all play music and do our best to get your guests up on the dance floor. But how we do those things and the results we are able to create for our couples can vary DRAMATICALLY from one entertainment service to another. The key is finding someone who will exceed your expectations instead of getting stuck with a DJ who will only under-deliver.

"WHO WANTS IT?"
I was a guest at a wedding (a rare and unusual occurrence for me) a few years back where I was familiar with the groom's family, but didn't really know the bride's family at all. The DJ they had hired introduced the wedding party members in their grand entrance by first name only and was growling out their names like the monster truck show voice over guy who's known for yelling "SUNDAY! SUNDAY! SUNDAY!" in those obnoxious commercials. Luckily, I already knew that the groom's father was also his Best Man, because the DJ only introduced he and the Maid of Honor by saying "MAKE SOME NOISE FOR JOHN & SALLY!" Then, following the Best Man's formal toast, the DJ collected the mic and walked out to center of the dance floor where he then asked a simple question as he said, "WHO WANTS IT?" He then nonchalantly held the microphone out at arm's length waiting for whoever was supposed to toast next to come up and collect it from him. This is were it got really awkward. Two older gentlemen stood up on the bride's family's side of the ballroom and walked up to dance floor at the same time. Apparently, the bride had a father and a step-father who were both slated to give a toast. But only knowing the groom's side of the room, I was unsure about which one was which and I had no clue what their names were. It was painfully evident to all in attendance that this DJ was either uninformed or just didn't care to take the time to help the guests connect the dots on who the wedding party members were, much less give proper introductions to those who would be making formal toasts.

REVIEW SITE LINKS
THE PROOF IS IN THE VIDEO
The only way to make sure you don't get stuck with an uncaring and uninformed DJ/MC at your wedding is to demand to see video footage of them in action. Don't get distracted by fun footage of people dancing. Insist on seeing UNCUT FOOTAGE of a complete grand entrance, or a segment of special dances, or the introductions of the formal toasts. Scrutinize this footage as if you were auditioning an actor for a vital role (because the truth is…you are) and ask some very important questions. Are they using full names and pronouncing them correctly? Are they using a fake "DJ voice" instead of talking like a normal human being? Are they rambling and hard to follow, or are they concise and clear? Are they using repetitive phrases that will prompt your friends at table 12 to start a drinking game every time the MC says "Ladies and Gentlemen…" or "Big round of applause…"? Do they talk down to the guests, or do they come across as friendly, engaging, and charming? This person will be your spokesperson on your wedding day. Choose wisely.
WHAT'S NEXT?
Have you ever been to a reception where things just seemed to drag on forever and no one knew what was happening next or why things were not moving along more smoothly? One of the most common complaints I have heard from my couples about weddings they've attended recently is the lack of direction in keeping a SMOOTH-FLOWING pace for the traditional events while also making sure the guests are kept properly informed. When we meet, I'd be happy to show you the "behind the scenes" secrets I use to maintain a smooth-flowing reception agenda that encourages involvement from the guests and keeps them consistently updated about what's happening next.

YOUR RESULTS?
Imagine your reception has ended and, as your guests are leaving, you are magically able to overhear the private comments couples are sharing with each other about your celebration as they are driving home. What are some of the remarks you are hoping they'll be saying? Make a list of the key DESCRIPTIVE words that come to mind and you will be left with a clear desciption of the results you want your friends and family to experience at your wedding reception.
"WORKING WITH VS. FOR"
In my 20+ years of entertaining at wedding receptions, I have found that the best results are achieved when I "team up" with a couple who is looking for a COLLABORATIVE relationship in their planning process. When a DJ/MC just "takes orders" from their clients without offering helpful advice for improving the effectiveness of their ideas, then that DJ can simply fall back on the disclaimer of "that's what they wanted me to do"…if the idea flops. My friend, Randy Bartlett, defines this as the important difference between "working with" our couples vs. "working for" our couples. Some of the best and most creative moments I have experienced at wedding receptions came from listening to my couples' ideas and then, in turn, developing those ideas into memorable moments that were placed into the best spot in the agenda, delivering maximum results.
"I PROMISE…"
I promise to deliver dramatically different results for your celebration. I promise to share as much uncut video footage as you require to be CERTAIN that I am more than qualified to exceed your expectations. I promise to help you plan an agenda for your celebration that will be smooth-flowing and entertaining. I promise to listen to your vision and WORK WITH YOU to turn it into reality. I promise to keep your guests consistently informed about the festivities that are about to occur. I promise to introduce your friends and family on the microphone in a highly polished and informative way. I promise to do everything I can to give you and your friends and family "The Best Wedding Reception…Ever!"
CONTACT ME TODAY!
Call toll-free to schedule your
complimentary initial consultation
(800) 994-5338
Feel free to text me if you prefer
(949) 584-5338
Contact Form
LAUGHTER CONNECTS US
Think about the last time you were a guest at a wedding reception. Did you know everyone who was seated at your table? If not, then you probably felt a little uncomfortable until someone finally broke the ice by making friendly introductions around the table. I have the seen this phenomenon at weddings for years. It is almost as if there is an invisible WALL OF DISCOMFORT in the middle of the table preventing the guests from truly enjoying themselves unless something is done to tear down that barrier. Laughter is the most effective way to resolve this dilemma. Laughter makes your guests feel more relaxed, content, involved, and connected. They will feel more connected to the two of you, to The PURPOSE for your celebration, and to the other guests at their table.
"TRYING TO BE FUNNY"
One of the most common complaints I have heard from my couples about wedding MCs they have seen at other weddings has been watching them "trying to be funny" but coming off as un-funny, fake, and cheesy. Delivering humor that is both appropriate and timely is a lot tougher than it looks. A skilled MC can deliver a punchline seamlessly without ever appearing to be "trying to be funny." There is a honed skill combined with natural talent at play when a good MC draws spontaneous laughter from the guests at a wedding. An MC who has not pursued training in the arts and sciences of EFFECTIVELY DELIVERING HUMOR will often come across as unpolished and insincere. There are two proven ways to verify the skills of an MC in this area. 1: Insist on seeing uncut video footage of them in action at their previous wedding receptions. 2: Ask to see the photos of the bride and groom, the wedding party members, and the guests laughing at their previous wedding receptions. If The RESULTS they create for their couples truly measure up, they should have no problem giving you the proof needed to confirm their skills.
CAN FUNNY BE LEARNED?
Some people say that you are either funny or you are not, there is no in between. There is some truth to that. But, in my experience, I have come to believe that with the proper training and experience, one can develop a better funny bone. In 2002, in an effort to expand and improve my skills as a Master of Ceremonies, I took a seven week performance workshop on stand-up comedy. I had no idea at the time that this investment would continue to pay out dividends in my performance skills for over a decade afterwards. In that workshop, I learned PROVEN TECHNIQUES for writing and delivering humor in the most effective and dynamic ways possible.
I also learned how to develop my own "voice" as a performer. Trying to deliver other people's "lines" and trying to imitate other people's unique "delivery" of those lines would only make me look un-prepared, un-funny, and un-qualified. Then it hit me, most MCs have never explored these kinds of training opportunities and instead have resorted to using the lines, routines, and delivery styles they have seen portrayed by other MCs without ever learning how to truly be themselves. No wonder so many brides have used the word "cheesy" to describe those kinds of performances. However, it should be noted that although I am a talented entertainer and performer, your wedding reception is about you and your guests…not about me. I am there to serve your needs and deliver The RESULTS you deserve and expect without attempting to steal the spotlight for myself.
ROAST MY WEDDING PARTY?
The Grand Entrance introductions of your Wedding Party members is the perfect place to incorporate some fun, lighthearted humor. Far too often at receptions, the Wedding Party members are announced merely by having the MC say their names in an energetic manner. But what purpose does that really serve? It gives your guests a chance to cheer and clap for a group of your closest friends and/or family members who are not well known, if known at all, by all of your guests. Have you ever cheered for someone whose name just got announced at a wedding and then wondered, "who are they again?" Since the late 90's, I have been adding more fun and laughter to my couples' wedding receptions by taking a few brief moments to properly introduce each member of the Wedding Party while also mixing in some appropriate humor and even a gentle roasting of a few of them. Instead of focusing on the Comedy Central Celebrity Roasts, which are known for getting very inappropriate, think back to your last big family gathering for Thanksgiving Dinner. Did you tell stories about each other around the table? Did you bring up silly or stupid things your Dad, or your Brother, or your Cousin did that one time? Was the rest of the family laughing and enjoying these trips down memory lane? Now apply that same feeling to the way the members of your Wedding Party could be (and should be) introduced.
In the surveys my couples have filled out and mailed in over the years, 98% of them remarked that their FAVORITE MOMENT at their wedding reception was the "roast style" personalized introductions of their Wedding Party members.
HARDER THAN IT LOOKS
On first blush, some MCs might see the footage of the personalized introductions I deliver for my couples and think it looks fairly easy to do themselves. But be forewarned, creating these kind of fun, laughter-filled moments can be both daunting and painful if DELIVERED POORLY. A videographer friend of mine shared with me once that a DJ/MC at a wedding he was shooting was attempting to "do the same thing", but The RESULTS he delivered fell far short of entertaining or appropriately funny. He introduced a bridesmaid by saying "You might have noticed she's gained weight recently…she's pregnant!" The response he got back was the opposite of laughter. He got stunned silence instead. He was "trying to be funny" without taking the time to learn and hone the necessary skills for delivering humor. Not only have I been successfully writing and delivering these kinds of hilarious introductions at weddings for well over a decade, but I have also been training other MCs how they too can write and deliver them in their own "voice" and performance style in my 2-day training workshops called "Make It GRAND!" Workshop with my teaching partner, Elisabeth Scott Daley. Together, we have coached over 100 DJ/MCs from across the United States and from around the world.
I CAN…
I can help your guests feel more relaxed, content, involved, and connected by creating unexpected (yet appropriate) moments filled with laughter. I can get your guests laughing without ever appearing to be trying. I can tell you CONFIDENTLY that you will see your guests laughing and you will be laughing as well because I have pursued every opportunity to improve my skills related to delivering humor. I can lightheartedly roast your wedding party which will lead to The DANCING you've been hoping to see.
CONTACT ME TODAY!
Call toll-free to schedule your
complimentary initial consultation
(800) 994-5338
Feel free to text me if you prefer
(949) 584-5338
Contact Form
IT STARTS AT THE BEGINNING
The fun your guests will experience celebrating with you on the dance floor doesn't just start when the open dancing begins. It starts the moment your guests first begin arriving at your reception. So how do you create a fun environment that will encourage your wedding guests to become involved PARTICIPANTS instead of feeling like outsiders? It starts with a fun, laughter-filled grand entrance. Mix in one or two unique ways to liven up the meal. Explore some options for making your special dances more memorable and meaningful. Utilizing ideas like these will develop a fun, celebratory atmosphere that should show powerful results later on when it is time to start the dancing. I can share some examples with you during our initial consultation.
NO "GUILT TRIPS" NEEDED
I have heard countless stories over the years about a wedding MC who started the open dancing by making a standard announcement like this one… "If you want our bride and groom to have a long and happy marriage, then come up to the dance floor right now." This is an all-too-common "guilt trip" tactic that is used to kick things off with a full dance floor. Even though this approach may work, it can often leave your guests feeling EMOTIONALLY BLACKMAILED. Some of your guests may not ever be interested in dancing. Using negative feelings and peer pressure to force their involvement might net a short term gain of a full dance floor, but it could also contribute to an undesired, long-term result of some guests choosing to leave early.
GROUP DANCES ARE "TOOLS"
Some people think that all group participation dances are "cheesy" (i.e. Electric Slide, Chicken Dance, Etc.). But as my good DJ friend, Mike Walter, says, "They're not cheesy, they're tools." If your group is known to be slightly "dance floor challenged," then utilizing a few group dances might be an effective way to jump-start your open dancing. If your group loves to shake it on the dance floor, then perhaps no group dances will be necessary or even desired. But if your family and friends have a favorite group dance that EVERYONE loves, then it should be used in the most effective way possible to bring even more energy to the dancing portion of your celebration. The reason many of these songs have been branded as cheesy is because some entertainers use them at every single wedding. I believe in using the right "tools" for each wedding and only using them when they are both needed and desired.
MIXING FOR A MIXED GROUP
Mixing dance music for a wedding reception can be a challenging endeavor. Unlike a nightclub, where most of the dancers have come for a particular style, genre, or era of music that the club is known for playing, the guests at a wedding reception are usually a widely mixed group of ages, tastes, and VALUES. The first key is choosing songs that are "family friendly" so as not offend any grandparents who might not appreciate a current hit that uses adult language or subject matters. The second key is playing songs that appeal to the larger group sooner. A song that is number one on the charts right now might not be familiar yet to some of your older guests. But if that song is played later on, those older guests might actually stay on the dance floor if they've been INCLUDED in the earlier musical selections.
The third key is playing sets of 3 or 4 songs from a given genre or era and then changing to another set to keep attracting as many guests to your dance floor as possible. Getting stuck with one style of music for 8 songs in a row is a sure fire way to ensure that the guests whose musical tastes are being overlooked will start heading for the exit earlier than you desired.
I WILL…
I will work with you to plan a fun and engaging celebration that will feel enjoyable from the very beginning. I will get your guests in the mood to dance in an inviting way that will never make them feel emotionally blackmailed. I will only play a group dance song(s) if you have approved it and if it will contribute to the success of your celebration. I will give you a comprehensive list of MUSIC SUGGESTIONS for your open dancing requests so the music that's played will reflect your style, preferences, and values. I will play dancing requests from your guests (assuming they are not on your "do not play" list) to create more fun involvement. And if you secure my services for your upcoming wedding celebration, I will give you a complimentary signed copy of my book to help you create a celebration that your friends and family will be referring to for years to come as "The Best Wedding Reception…Ever!"
CONTACT ME TODAY!
Call toll-free to schedule your
complimentary initial consultation
(800) 994-5338
Feel free to text me if you prefer
(949) 584-5338
Contact Form
SOMEBODY HAD TO DO IT
I've been helping couples create personalized moments at their wedding receptions for over 20 years. Back in 1999, I began getting frustrated by the wedding magazines and wedding planning books that kept referring to my role as simply "the music" instead of recommending entertainment with all of the various services the should be and could be provided.
I decided to write a book based on a seminar I had developed for brides and grooms that would explore the planning aspects of a wedding reception from the unique point of view that entertainment can provide.
I self-published my book in February of 2007 and after selling more than 11,000 soft-cover, black & white copies in under 2 years, I landed a deal with a publisher. My book was updated, hard bound, printed with a full color interior, and published in bookstores everywhere in October of 2010. You can purchase a copy at the following book sellers…
It is also available in the following digital formats…
TV INTERVIEWS
In my ongoing efforts to promote my book, I have given over a dozen TV interviews on the topic of creating fun and memorable wedding receptions.
WHAT'S IN IT?
The book features: 230 creative ideas for personalizing your wedding reception celebration, 22 couple profile pages featuring real couples and their unique wedding reception agendas, and over 100 full color images.
WHO'S READING IT?
"The Best Wedding Reception…Ever!" is currently being read by engaged couples, along with wedding entertainers and other wedding professionals across the United States, along with Canada, United Kingdom, Ireland, Germany, Australia, New Zealand, Singapore, Malaysia, and Korea.
CONTACT ME TODAY!
Call toll-free to schedule your
complimentary initial consultation
(800) 994-5338
Feel free to text me if you prefer
(949) 584-5338
Contact Form
PETER MERRY
Peter Merry has been helping engaged couples to create unforgettably fun and entertaining wedding receptions since 1992.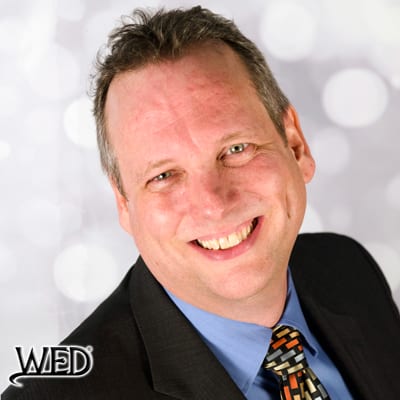 He has provided DJ entertainment and served as the Master of Ceremonies at Wedding Receptions across the United States, including California, Nevada, Arizona, New Mexico, Washington, Texas, Missouri, Kansas, Iowa, Nebraska, South Dakota, Illinois, Virginia, North Carolina, New Jersey, and New York. He currently serves his clients as their Wedding Entertainment Director® via his exclusive entertainment service, Merry Weddings. He was born and raised in Seattle, Washington. He worked for almost 20 years in the Southern California region, from San Diego to Santa Barbara and from Catalina Island to Palm Springs. He currently lives in Kansas City, Missouri and he is available to entertain at weddings across the United States and just about any destination around the globe. To learn more, visit his personal web site: PeterMerry.com.

PUBLIC SPEAKER
He has presented seminars on wedding entertainment performance techniques, wedding marketing, sales consultation skills, and the value of solid standards and ethics in business. These seminars have been presented to wedding professionals in over 60 cities across the United States, in Canada, in Mexico, in the Bahamas, and in the U.K.
He has presented at conferences alongside several best-selling authors, reality TV show hosts, and wedding industry celebrities, including: Preston Bailey, Sasha Souza, David Tutera, Colin Cowie, Kathy Ireland, Susan Southerland, Andy Ebon, Alan Berg, Mary Dann, Barbara Wallace, Carley Roney, Jane Dayus-Hinch, Donnie Brown, Tom Haibeck, Diann Valentine, Gary Vaynerchuk, Jeffrey Gitomer, and the inimitable Grace Ormonde!
He has also frequently been asked to speak locally and internationally for various professional trade associations and conferences, including: ABC (Association of Bridal Consultants), ISES (International Special Events Society), NACE (National Association of Catering & Events), WMBA (Wedding Merchants Business Academy), AfWPi (Association for Wedding Professionals), WEVA (Wedding & Event Videographers Association), NAWP (National Association of Wedding Professionals), MPI (Meeting Professionals International), JPC (Justice of the Peace Association), WPIC, (The Wedding Planners Institute of Canada), W&EPP, (Weddings & Events Proactive Professionals), ArmDJs (Appalachian Regional Mobile DJ Symposium), MBLV (Mobile Beat Show in Las Vegas, NV), DJTE (DJ Times Expo in Atlantic City, NJ), LVDJS (The Las Vegas DJ Show), PMC (Pro Mobile Conference), & CDJS (Canadian DJ Show)
INDUSTRY LEADER
He served in 2003 and 2004 as the National President of the ADJA (American Disc Jockey Association). In February of 2005, he was presented with the ADJA's 1st Annual "Peter Merry Leadership Award." In an effort to create and promote a verifiable and certified new brand of elite wedding entertainment service, in May of 2007, he founded the WED Guild® (Wedding Entertainment Directors Guild®). As a direct result, in July of 2013, the WED Guild® was able to secure the trademark rights to their prestigious title of Wedding Entertainment Director®.
ENTERTAINER
His varied entertainment background includes years of public speaking and teaching classes at his church, serving as a "Morning Host" for KBRT AM 740, hosting and engineering his own Talk Radio Show on KBRT, and doing Stand-Up Comedy at the Irvine Improv. He is currently taking Improv training with KC Improv. He has also taken performance workshops from Mark & Rebecca Ferrell, Bill Hermann & Jason Jones, Randy Bartlett, and Todd Mitchem. And he has been sought out by corporations to roast their CEOs.
TRAINER / MENTOR / COACH
In January of 2009, Peter began offering 2-day training event called "The Professional Process" that covers his approach in marketing, sales, planning, preparation, performance, and follow-up with and for his wedding clients. Since then, he has trained over 200 wedding DJs from across the United States, Canada, Australia, and the United Kingdom. In March of 2011, Peter teamed up with Elisabeth Scott Daley to begin offering a 2-day performance workshop for Wedding DJ/MCs who want to create the most personalized Grand Entrances for their couples. So far, over 100 Wedding DJ/MCs from across the United States, Canada, Australia, and the United Kingdom have attended their "Make It GRAND!" Workshop.
ADVOCATE / AUTHOR
In his ongoing efforts to promote his ground-breaking book, "The Best Wedding Reception…Ever!", Peter Merry has given over a dozen TV interviews on the topic of creating fun and memorable wedding receptions. He has also been a featured wedding professional on David Tutera's popular reality TV show, "My Fair Wedding" along with WEtv's "Bridezillas" and TLC's "Say Yes To The Dress." Peter's infectious passion for creating memorable moments at wedding receptions and teaching others how they too can deliver dramatically different results for their engaged couples has caused many to affectionately refer to him as "The Fun Wedding Guy!"
Peter Merry is a proud member of
the American Disc Jockey Association.
CONTACT ME TODAY!
Call toll-free to schedule your
complimentary initial consultation
(800) 994-5338
Feel free to text me if you prefer
(949) 584-5338
Contact Form
LET'S CHAT!
Because I recognize The PURPOSE of a wedding celebration and am committed to giving my couples The RESULTS they deserve, I am very selective about filling the limited number of dates I will secure in a given year. If you want to learn how I can guarantee The LAUGHTER and The DANCING that you and your guests will be talking about for years to come…let's schedule some time to talk about your plans and explore what we might be able to accomplish together.
CONTACT ME TODAY!
Call toll-free to schedule your
complimentary initial consultation
(800) 994-5338
Feel free to text me if you prefer
(949) 584-5338