PETER MERRY
Peter Merry has been helping engaged couples to create unforgettably fun and entertaining wedding receptions since 1992.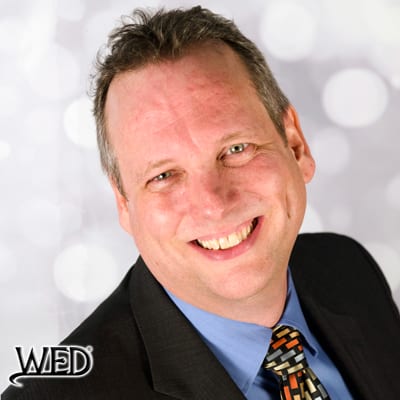 He has provided DJ entertainment and served as the Master of Ceremonies at Wedding Receptions across the United States, including California, Nevada, Arizona, New Mexico, Washington, Texas, Missouri, Kansas, Iowa, Nebraska, South Dakota, Illinois, Virginia, North Carolina, New Jersey, and New York. He currently serves his clients as their Wedding Entertainment Director® via his exclusive entertainment service, Merry Weddings. He was born and raised in Seattle, Washington. He worked for almost 20 years in the Southern California region, from San Diego to Santa Barbara and from Catalina Island to Palm Springs. He currently lives in Kansas City, Missouri and he is available to entertain at weddings across the United States and just about any destination around the globe. To learn more, visit his personal web site: PeterMerry.com.

PUBLIC SPEAKER
He has presented seminars on wedding entertainment performance techniques, wedding marketing, sales consultation skills, and the value of solid standards and ethics in business. These seminars have been presented to wedding professionals in over 60 cities across the United States, in Canada, in Mexico, in the Bahamas, and in the U.K.
He has presented at conferences alongside several best-selling authors, reality TV show hosts, and wedding industry celebrities, including: Preston Bailey, Sasha Souza, David Tutera, Colin Cowie, Kathy Ireland, Susan Southerland, Andy Ebon, Alan Berg, Mary Dann, Barbara Wallace, Carley Roney, Jane Dayus-Hinch, Donnie Brown, Tom Haibeck, Diann Valentine, Gary Vaynerchuk, Jeffrey Gitomer, and the inimitable Grace Ormonde!
He has also frequently been asked to speak locally and internationally for various professional trade associations and conferences, including: ABC (Association of Bridal Consultants), ISES (International Special Events Society), NACE (National Association of Catering & Events), WMBA (Wedding Merchants Business Academy), AfWPi (Association for Wedding Professionals), WEVA (Wedding & Event Videographers Association), NAWP (National Association of Wedding Professionals), MPI (Meeting Professionals International), JPC (Justice of the Peace Association), WPIC, (The Wedding Planners Institute of Canada), W&EPP, (Weddings & Events Proactive Professionals), ArmDJs (Appalachian Regional Mobile DJ Symposium), MBLV (Mobile Beat Show in Las Vegas, NV), DJTE (DJ Times Expo in Atlantic City, NJ), LVDJS (The Las Vegas DJ Show), PMC (Pro Mobile Conference), & CDJS (Canadian DJ Show)
INDUSTRY LEADER
He served in 2003 and 2004 as the National President of the ADJA (American Disc Jockey Association). In February of 2005, he was presented with the ADJA's 1st Annual "Peter Merry Leadership Award." In an effort to create and promote a verifiable and certified new brand of elite wedding entertainment service, in May of 2007, he founded the WED Guild® (Wedding Entertainment Directors Guild®). As a direct result, in July of 2013, the WED Guild® was able to secure the trademark rights to their prestigious title of Wedding Entertainment Director®.
ENTERTAINER
His varied entertainment background includes years of public speaking and teaching classes at his church, serving as a "Morning Host" for KBRT AM 740, hosting and engineering his own Talk Radio Show on KBRT, and doing Stand-Up Comedy at the Irvine Improv. He is currently taking Improv training with KC Improv. He has also taken performance workshops from Mark & Rebecca Ferrell, Bill Hermann & Jason Jones, Randy Bartlett, and Todd Mitchem. And he has been sought out by corporations to roast their CEOs.
TRAINER / MENTOR / COACH
In January of 2009, Peter began offering 2-day training event called "The Professional Process" that covers his approach in marketing, sales, planning, preparation, performance, and follow-up with and for his wedding clients. Since then, he has trained over 200 wedding DJs from across the United States, Canada, Australia, and the United Kingdom. In March of 2011, Peter teamed up with Elisabeth Scott Daley to begin offering a 2-day performance workshop for Wedding DJ/MCs who want to create the most personalized Grand Entrances for their couples. So far, over 100 Wedding DJ/MCs from across the United States, Canada, Australia, and the United Kingdom have attended their "Make It GRAND!" Workshop.
ADVOCATE / AUTHOR
In his ongoing efforts to promote his ground-breaking book, "The Best Wedding Reception…Ever!", Peter Merry has given over a dozen TV interviews on the topic of creating fun and memorable wedding receptions. He has also been a featured wedding professional on David Tutera's popular reality TV show, "My Fair Wedding" along with WEtv's "Bridezillas" and TLC's "Say Yes To The Dress." Peter's infectious passion for creating memorable moments at wedding receptions and teaching others how they too can deliver dramatically different results for their engaged couples has caused many to affectionately refer to him as "The Fun Wedding Guy!"
Peter Merry is a proud member of
the American Disc Jockey Association.
CONTACT ME TODAY!
Call toll-free to schedule your
complimentary initial consultation
Feel free to text me if you prefer