"Thank you Peter! We had such an awesome time. You did the most amazing job…ever! You are the best at what you do."
~Gino & Amy Fossati
married at Arroyo Trabuco Golf Club in Mission Viejo, CA
IT STARTS AT THE BEGINNING
The fun your guests will experience celebrating with you on the dance floor doesn't just start when the open dancing begins. It starts the moment your guests first begin arriving at your reception. So how do you create a fun environment that will encourage your wedding guests to become involved PARTICIPANTS instead of feeling like outsiders? It starts with a fun, laughter-filled grand entrance. Mix in one or two unique ways to liven up the meal. Explore some options for making your special dances more memorable and meaningful. Utilizing ideas like these will develop a fun, celebratory atmosphere that should show powerful results later on when it is time to start the dancing. I can share some examples with you during our initial consultation.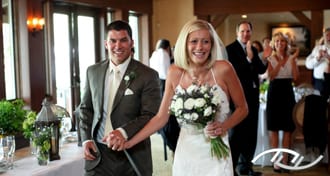 NO "GUILT TRIPS" NEEDED
I have heard countless stories over the years about a wedding MC who started the open dancing by making a standard announcement like this one… "If you want our bride and groom to have a long and happy marriage, then come up to the dance floor right now." This is an all-too-common "guilt trip" tactic that is used to kick things off with a full dance floor. Even though this approach may work, it can often leave your guests feeling EMOTIONALLY BLACKMAILED. Some of your guests may not ever be interested in dancing. Using negative feelings and peer pressure to force their involvement might net a short term gain of a full dance floor, but it could also contribute to an undesired, long-term result of some guests choosing to leave early.
GROUP DANCES ARE "TOOLS"
Some people think that all group participation dances are "cheesy" (i.e. Electric Slide, Chicken Dance, Etc.). But as my good DJ friend, Mike Walter, says, "They're not cheesy, they're tools." If your group is known to be slightly "dance floor challenged," then utilizing a few group dances might be an effective way to jump-start your open dancing. If your group loves to shake it on the dance floor, then perhaps no group dances will be necessary or even desired. But if your family and friends have a favorite group dance that EVERYONE loves, then it should be used in the most effective way possible to bring even more energy to the dancing portion of your celebration. The reason many of these songs have been branded as cheesy is because some entertainers use them at every single wedding. I believe in using the right "tools" for each wedding and only using them when they are both needed and desired.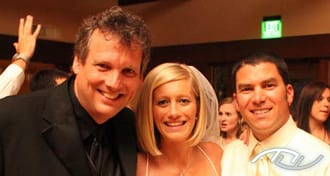 MIXING FOR A MIXED GROUP
Mixing dance music for a wedding reception can be a challenging endeavor. Unlike a nightclub, where most of the dancers have come for a particular style, genre, or era of music that the club is known for playing, the guests at a wedding reception are usually a widely mixed group of ages, tastes, and VALUES. The first key is choosing songs that are "family friendly" so as not offend any grandparents who might not appreciate a current hit that uses adult language or subject matters. The second key is playing songs that appeal to the larger group sooner. A song that is number one on the charts right now might not be familiar yet to some of your older guests. But if that song is played later on, those older guests might actually stay on the dance floor because they've been INCLUDED in the musical selections. The third key is playing sets of 3 or 4 songs from a given genre or era and then changing to another set to keep attracting as many guests to your dance floor as possible. Getting stuck with one style of music for 8 songs in a row is a sure fire way to ensure that the guests whose musical tastes are being overlooked will start heading for the exit earlier than you desired.
I WILL…
I will work with you to plan a fun and engaging celebration that will feel enjoyable from the very beginning. I will get your guests in the mood to dance in an inviting way that will never make them feel emotionally blackmailed. I will only play a group dance song(s) if you have approved it and if it will contribute to the success of your celebration. I will give you a comprehensive list of MUSIC SUGGESTIONS for your open dancing requests so the music that's played will reflect your style, preferences, and values. I will play dancing requests from your guests (assuming they are not on your "do not play" list) to create more fun involvement. And if you schedule an appointment to consider my services, I will give you a complimentary signed copy of my book to help you create a celebration that your friends and family will be referring to for years to come as "The Best Wedding Reception…Ever!"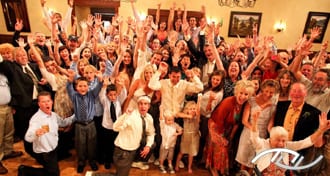 Call today to schedule your free consultation with Peter Merry
(800) 994-5338